As the newest custodiants, we moved into Kings in March 2016 with a vision to help reignite the old girl and reinstate her presence as a welcoming, inviting and accommodating bar, restaurant and hotel.
Our vision is to celebrate this beautiful part of the world by highlighting some wonderful local produce in our menus, providing welcoming and friendly faces to all patrons and ensuring our rooms are comfortable and clean. We may be a 3 star hotel but we strive to achieve 5 star service!
We welcome wholeheartedly any information, local knowledge, stories etc about the area or the building so we can continue to add to the collection we have started to create in the bar/restaurant and really celebrate this fantastic town.
Thank you for your patronage!
Stu and Dee Robinson
History of Kings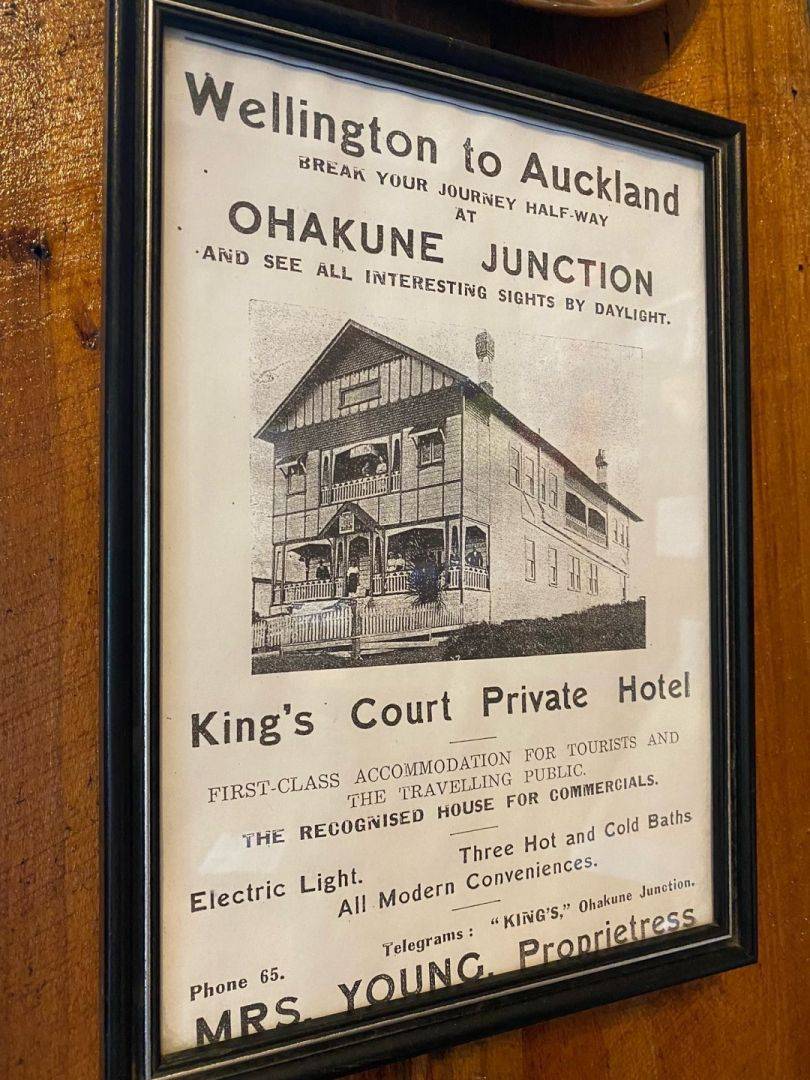 Kings Court Hotel was opened in October 1913 and is now the oldest operating hotel in the region.
In 1912, a well-known journalist named Joseph Ivess brought the section of land Kings stand on and began building his hotel 'Kings Court'.

Mrs A E Watts, already experienced in hotel management was the first manager here and at that time the tariff was 8s. A porter was also employed whose duties were to meet trains and passengers for the hotel and see to their luggage.
In 1916, the property was transferred to Joseph Ivess' three sons and in 1917, Joseph purchased the section next door. A wooden structure was added to the east wing in 1920.
The hotel was used by both traveling public and business consultants who were on temporary business in town. In 1918 an advertisement in a local newspaper promoted consultations with Mrs Gertrude Sorenson, a spiritual medium. Other mediums were also known to conduct seances at the hotel at this time.
In 1924 the hotel was purchased by Ellen Eliza Young. She and Albert Joseph Young, who also purchased the neighbouring section, kept the hotel until 1963.
The hotel was not used for accommodation as much after the 1950s and it is said that it's history during this time is as chequered as the iconic dancefloor.
New owners purchased the building and renamed it Snowline Hotel but this name change was short -lived and restoration on the building was continued into the 1970's after another change of ownership.
In 1979 an addition was made to the east wing and in June of 1980 a tower with its kauri pillared canopy was lifted onto the building. The tower had originally been used to adjourn the old Education Board building in Auckland and at the time no one was confident enough to scale the building with a harness to help lower the tower into position, so renown climber Peter Hillary was 'roped' in, having had a childhood of daring adventures with his father he was more than confident with heights!
For many years after this the hotel was owned by the Piper family until it was sold in 2007 to a group of 10 people who had come down from Auckland on a Stag weekend. The groom was a builder and seeing the building in need of some maintenance he wasted no time in putting in an offer…the first time his bride saw their new home was when they moved in!
After putting much love, sweat and tears into extensively renovating the old building, the remaining shareholders decided their time at Kings was drawing to a close and new custodians have stepped in.
Watch this space as we write our own chapter of the King's history!